Solutions
Management Platforms
We are experts on SAP S/4HANA
SAP: world's largest enterprise management software
SAP is the acronym of the German expression "Systeme, Anwendungen und Produkte in der Datenverarbeitung", which translates to "Systems, Applications, and Products for data processing".
This type of system (ERP) integrates all sectors of an organization, enhancing the service quality and reducing errors. We can assist your company both in the license purchase, diagnosis, and implementation, and in the organization as a whole, to improve your business management.
SAP Gold Partner
As an SAP partner for over 20 years, we have earned this seal of recognition, and have become one of the main SAP services providers, through the development of projects worldwide. With SAP's Enterprise Software solutions, we help medium and large companies with their Digital Transformation journeys.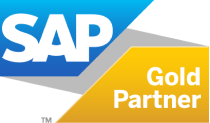 We carried out the first SAP S/4HANA implementation in Brazil and we are the pioneer in the public sector worldwide.

We won two editions of the ASUG Impact Awards, in 2006 and 2016.

We were among the first 20 consulting companies certified in DEMO21, enabling us to carry out projects on a global level.
Do you have a SAP system or want to learn more about this solution? We carry over 20 years of experience to serve you!
Remplissez le formulaire ci-dessous:
*Champs obligatoires.