Solutions
Management Platforms
We are experts on SAP S/4HANA
SAP: world's largest enterprise management software
SAP is the acronym of the German expression "Systeme, Anwendungen und Produkte in der Datenverarbeitung", which translates to "Systems, Applications, and Products for data processing".
This type of system (ERP) integrates all sectors of an organization, enhancing the service quality and reducing errors. We can assist your company both in the license purchase, diagnosis, and implementation, and in the organization as a whole, to improve your business management.
Benefits of the SAP system

Continuous improvement in business processes

More agility

Integrated departments

Data registration

Improved communication

Digitization of processes
SAP Gold Partner
As an SAP partner for over 20 years, we have earned this seal of recognition, and have become one of the main SAP services providers, through the development of projects worldwide. With SAP's Enterprise Software solutions, we help medium and large companies with their Digital Transformation journeys.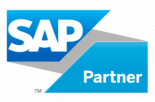 SAP S/4HANA
We work with the newest generation of SAP system, the S/4HANA. The solution was developed to reduce processes, simplify management and ensure more speed and security in strategic decision-making for your business.
Meta Run2S4 Conversion
Accelerator of systems transition to SAP S/4HANA and decision on plans and models for each company and business type.
Meta Run2S4 Conversion
SAP Implementation
Using the best practices, we aim the agility through governance, methodology, control, and project monitoring in real time.
SAP Implementation
Upgrade
Possibility for upgrade and new versions of your SAP products: reduction in the investment in support, adjustment to fiscal and tax rules of each country, and making the use of the best practices in the market a priority.
Upgrade
Roll out
This resource in SAP projects promotes the tuning and remodeling of your service or solution as the company grows and expands in the market.
Roll out
Improvement and integration projects
Evolving maintenance for all projects.
Improvement and integration projects
Training
Presentation of flow theories, lean, pulled systems and help in how to model a Kanban system in an agile way, and other tools.
Training
AMS Support
Application of best practices through our end-to-end structure, as well as the Run SAP methodology and control by the SAP Solution Manager (for AMS SAP).
AMS Support
Certifications
SAP Recognized Expertise
Certification that attests to Meta's experience in SAP S/4HANA, proven by successfully delivered and customer-validated projects, meeting strict SAP requirements.
Global DEMO 21 Certification
Enables Meta to deploy SAP S/4HANA for customers around the world.
Partner Quality Program
Recognition granted by SAP that includes Meta as a member of the German multinational worldwide quality program. The certificate attests the service quality already carried out and implemented by our company.
PCoE (Partner Center of Expertise)
Meta is a partner able to provide SAP system license maintenance.

We carried out the first SAP S/4HANA implementation in Brazil and we are the pioneer in the public sector worldwide.

We won two editions of the ASUG Impact Awards, in 2006 and 2016.

We were among the first 20 consulting companies certified in DEMO21, enabling us to carry out projects on a global level.
Do you have a SAP system or want to learn more about this solution? We carry over 20 years of experience to serve you!
Fill out the form below:
* Required fields.